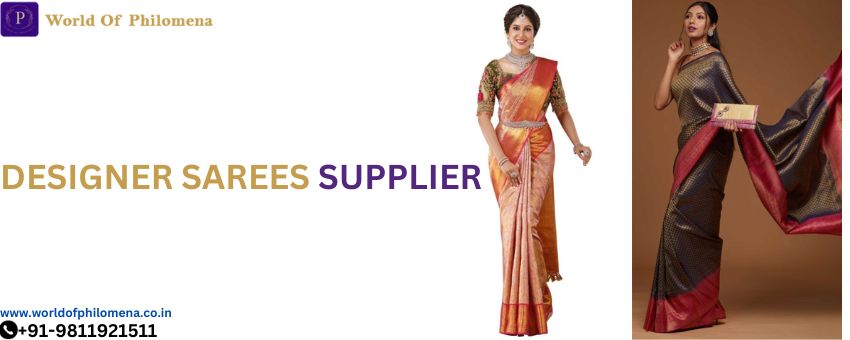 Unquestionably, Saree is one of the most traditional Indian attire in any woman's wardrobe. This simple one-piece of clothing is wrapped gracefully around your body and brings out the ethnic side in you. Be it a religious or a wedding ceremony, sarees have been an attraction to women from all age groups. There are a lot of options available to pick from the type of saree to wear on any occasion. The best part of the Saree is that it is designed in various patterns and styles suiting the needs of different women. The prominence of Saree is increasing day by day due to its popularity at the global level.
When it comes to fashion, Indian women are always ready to explore different attires and styles to look glamorous. However, to achieve their fashionista avatar, their love for their tradition has never changed. Therefore, the demand for Designer Sarees is still high in the Indian market. If any woman desires to be dressed in a designer outfit, go for the designer sarees that are quite trendy.
Designer Saree is considered to be an evergreen fashion attire and is suitable for a range of occasions. It can be worn at any formal as well as informal events by any woman. After adding the design element, sarees are no longer recognised as a traditional or old-fashioned form of dressing.
Rather, these days designers are coming up with modern, cool, and different styles of draping a saree. These sarees from a DESIGNER SAREES SUPPLIER capture attention and leave the onlookers impressed with the proper draping style. Now women have the option of choosing their style such that it reflects their personality. A designer with a creative mindset can come up with unique designs using a single piece of fabric. Simply carry your style in a designer saree with utmost self-confidence to make heads turn.
Spending the money on a designer saree is really a worthwhile decision to make you stunning among all. Choosing the best designer sarees supplier allows you to get a perfect blend of traditional attire in a modern look. Here are some top reasons that make designer sarees a top choice for women-
Trendy designs
Opting for a designer saree will give you a range of the latest designs. The suppliers have an experienced team of designers that take care of the upcoming trends while setting the patterns. They choose embellishments such as zari work, stones, beads, sequins, thread work etc. that remain in fashion. These sarees are specially curated keeping in mind the overall look that will be more enchanting. So, always choose the latest designer sarees from the online or offline channels of a designer saree supplier.
High-quality fabric
Fabric plays an important role in determining the quality of a saree. So, most designers keep it as their primary priority before designing any Saree. So, now you just don't have to worry about the comfort of the fabric of a designer saree. The designers thoroughly research and then select the most comfortable fabric that suits Indian weather and body type.
Attractive colours
An exclusive range of designer sarees are available in a variety of colours that give a beautiful look. Designers give a good collection of single-colour sarees along with an eye-catching mix of different colours. All these sarees look trendy and graceful, and meet the fashion trend with a lovely choice of colours.
Varied price range
When it comes to a designer collection, most people think that it will always be costly. But that's not true as these sarees are worthy by all means due to their quality and effort. Designer pieces of clothing are available in affordable ranges as well which makes them popular among ladies.
Final Thoughts
Indian designer sarees are notably colourful, fashionable, and glamorous. The modern women's ethnic wear is a perfect blend of Western refinement and creative designs on this traditional attire. All this required an exact sort of styling with minimum blouse work to portray subtleness mixed with elegant vibes. Wondering where to find the right designer saree for your next occasion? Look for a leading designer sarees supplier that has an awe-inspiring range of fancy designer sarees for all generations.