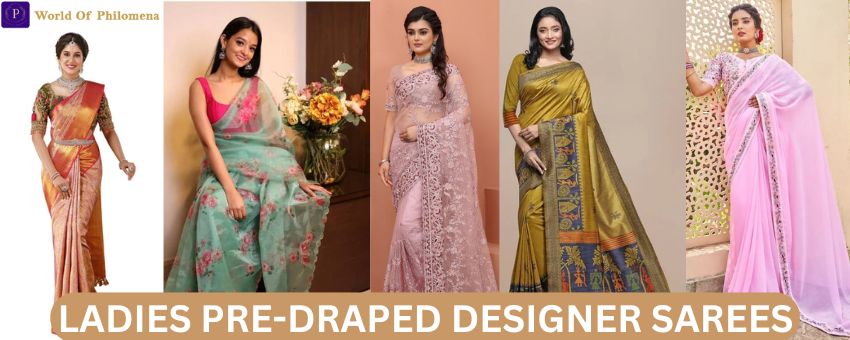 Saree has been an evergreen attire worn by Indian women. It is not only just a 5-yard fabric, but is it a presentation of the tradition and culture. Over time it has been revolutionised offering more convenient and fashionable alternatives.
One such alternative is ladies pre-draped designer sarees. The sarees are pre-stitched and can be worn effortlessly without the hassle of eating or dripping. The sarees or a combination of the elegance of a saree with the convenience of a ready-to-wear garment. It is become a popular choice among modern women.
This article will explore the features, and benefits of pre-draped sarees and will also provide insights on finding the best ladies pre-draped designer sarees supplier.
What are the Features of Pre-draped Sarees?
• The sarees are pre-pleated and pre-draped which saves a lot of time in effort that is required in draping a traditional saree.
• They come in different styles such as pant sarees, Lehenga sarees, gown sarees, and Dhoti sarees which offer a wide range of options to choose from.
• Crafted by talented designers, these sarees are incorporated with intricate detailing and embellishments, such as Zari work, sequins, embroidery and beadwork.
• These sarees are available in high-quality fabrics, such as chiffon, georgette, crêpe and silk, enhancing the appeal further.
• They are easy to wear and come with pre-attached Pallus and pleats. This allows them to just slip into them like a gown or a dress.
• They are time-saving as the need of talking, adjusting and pleating is eliminated, making them a convenient choice for various occasions.
• These sarees or versatile in terms of styling. They can be easily paired with different types of blouses starting from traditional designs to contemporary styles that helps in creating a unique look.
• The pre-draping ensures that the saree is draped uniformly, giving a polished and sophisticated appearance.
Know the Benefits of Having a Pre-draped Saree
• They are time-saving as they come in the pre-draped and pre-pleated form. It significantly reduces the time and effort needed for extensive draping.
• They are a go-to outfit when you want to wear a saree, but do not have sufficient time.
• Since they are draped to perfection, you do not have to worry about finishing the drape or pleats as everything is done to accentuate your calls and provide an elegant look without multiple adjustments.
• The sarees are designed to provide a comfortable fit. They are available in various sizes and can also be customised to your measurement, ensuring you get a perfect fit for enhanced comfort and confidence.
Tips to Find the Best Pre-draped Saree Supplier
When searching for the best ladies pre-draped designer sarees supplier, check the following tips:
• Make sure to do your research check for both online and offline suppliers. Opt for suppliers who specialise in pre-draped sarees.
• Do not skip the reviews and feedback. It will help you get an insight into the quality of the product and the services offered by the suppliers.
• Check for ratings and the reputation of the supplier. s
• Look for suppliers, offering diverse options in terms of design, style and fabric.
• They should also offer customisation options for catering to individual styles and preferences.
• Emphasise quality and craftsmanship. Always check the materials used and attention to detail along with the overall finish of the products.
Overall ladies pre-draped designer sarees or a great option for those who love to wear sarees, but don't know how to drape one or are always short of time. They are convenient and fashionable at the same time and or a popular choice among modern Indian women. With the above-mentioned tips, you can easily find yourself the best supplier who will offer you high-quality pre-draped designer sarees in different options.